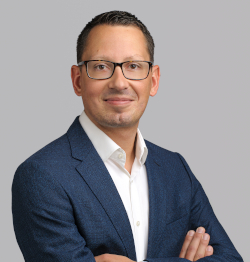 I'm a software architect at mimacom ag in Zurich.
I'm interested in all kinds of software engineering related topics; especially software architecture and Domain-driven Design (DDD). I am also the founder and project lead of the Context Mapper open source project.
Contact
Interests
Software Engineering
Software Architecture and Design
Service-oriented Architectures / Microservices
Domain-driven Design (DDD)
Object-oriented Analysis and Design (OOAD)
Java / Concepts of Object-oriented Programming
Professional Experience
Software Architect
01/2021 - Now
(to be updated)
Software Engineer and Project Lead
02/2020 - 12/2020
Leading development and research around the Context Mapper project. Supporting other research projects and teaching on software architecture, (micro-)service-oriented architectures, and Domain-driven Design (DDD).
Involved projects and activities:
Context Mapper (contextmapper.org) open source project - "A Modeling Framework for Strategic Domain-driven Design"

Leading project technically
Writing research papers on Context Mapper and Domain-driven Design related topics;
Used Technologies: Domain-specific Language (DSL) with Xtext framework (Java, Xtend), Language server based on Language Server Protocol (LSP), Eclipse plugin (Java), Visual Studio Code extension (Typescript), Reverse engineering architectures of microservice applications based on Spring Boot and Spring Web, Docker and Docker Compose, and Open API (OAS) specifications

Microservice DSL (MDSL) project (microservice-api-patterns.github.io/MDSL-Specification/)

Supporting Prof. Olaf Zimmermann in implementing MDSL generator tooling
Generating Java code ("moduliths"), GraphQL schemas, protocol buffer specifications, and Open API specifications out of MDSL contracts

Conceptual work: map abstract API contracts to concrete interface technologies, derive service contracts from DDD-based architecture models

Support of teaching in application architecture on BSc level

Domain-driven Design (DDD)
Context Mapper
Internship in Software Engineering
05/2018 - 09/2018
Implementation of business web application in the real estate industry
Organizing and conducting a customer training and requirements engineering workshop
Implementation and maintenance of build- and testing platforms
Used technologies and frameworks: HTML, CSS, JS, Freemarker, Java, Magnolia CMS, Gradle, Maven, Ansible
Software Engineer Professional
01/2014 - 08/2017
Design and implementation of tools to support developers (Eclipse plugins, command line tools, etc.)
Development and realization of concepts concerning CI/CD
Development, operation and maintenance of 'adcubum SYRIUS' build and it's continuous integration environment with Gradle and Jenkins
Development and integration of software documentation tools
Classic software engineering tasks with Java and J2EE
Documentation of architecture and design
Operating applications responsible for software documentation
Supporting the migration from SVN to GIT
Supporting developers regarding IDE (Eclipse), Build (Gradle), SCM (Git), Continuous Integration, etc.
Software Engineer
10/2012 - 12/2013
Fachliche Neu- und Weiterentwicklung des Moduls 'Bestandes-/ Vertragsverwaltung' - zum Beispiel in den Themen Risikoabbildung, Offert- und Vertragserfassung, Offert- und Vertragsmutationen, Policierung, Lohndeklarationsprozess, Elektronische Lohnsummenmeldung, etc.
Erstellen von Migrations- und Korrektur-SQL im Modul 'Bestandes-/ Vertragsverwaltung'
Architektur-Optimierung der fachlichen Prozesse
Unterstützung des Software-Qualitätswesens
Used systems and technologies: Java, Eclipse, SVN, Oracle SQL, XML, Linux
Software Developer Java
05/2011 - 09/2012
Product development (CRM solution)
Testing and operating solution (cloud-based solution)
Collaboration with customers in multiple projects
Used technologies: Java, JavaFX, Spring Framework, Apache Lucene, PHP, MySQL, PostgreSQL
Software Developer
09/2008 - 04/2011
Development of solution concepts
Specification and design of solutions in direct collaboration with customers
Implementation of solutions based on the following technologies, frameworks and products: IBM Lotus Notes/Domino, Liferay Portal, Java/JEE (Tomcat and WebSphere Express), Web technologies (CSS, JS, HTML, XML), Webservices (SOAP)
Testing and documentation
Supporting customers with operating implemented solutions
Support and train apprentices
Apprenticeship in informatics (application development)
08/2004 - 08/2008
Software development (IBM Lotus Notes, Java)
Education
Master of Science (MSc)
Master of Science FHO in Engineering focusing on Information and Communication Technologies in the Software and Systems Master Research Unit
University of Applied Sciences Rapperswil - HSR
09/2018 - 01/2020
Master thesis:
Student research projects:
Seminar papers:
Modules:
Algorithms, Cloud Computing, Ethics and Corporate Responsibility, Cryptography and Coding Theory, Optimization, Software Engineering and Architectures, Quality- and Risk Management, Advanced Programming Paradigms (Haskell, Program Verification, Multiparadigm Programming with Scala), Parallel and Distributed Computing, Privacy and Law
Completed 21 credits towards a Master of Science in Computer Science
09/2017 - 04/2018
Completed the following courses:
Algorithms and Data Structures
Theoretical Computer Science
Linear Algebra
Bachelor of Science (BSc)
Bachelor of Science FHO in Computer Science
University of Applied Sciences Rapperswil - HSR
09/2013 - 08/2017 (part-time)
Advanced Federal Diploma of Higher Education (HF)
Advanced Federal Diploma of Higher Education (HF) in Computer Science
ZbW - Zentrum fuer berufliche Weiterbildung
10/2009 - 10/2012
Thesis: "State of the art Java Development Environment with Continuous Integration"
Apprenticeship in Informatics (Application Development)
clavis IT ag
08/2004 - 08/2008
Awards
SummerSoC Young Researcher Award 2020
For mine and Olaf Zimmermann's paper entitled "Domain-driven Service Design - Context Modeling, Model Refactoring and Contract Generation" I received the SummerSoC Young Researcher Award sponsored by ServTech.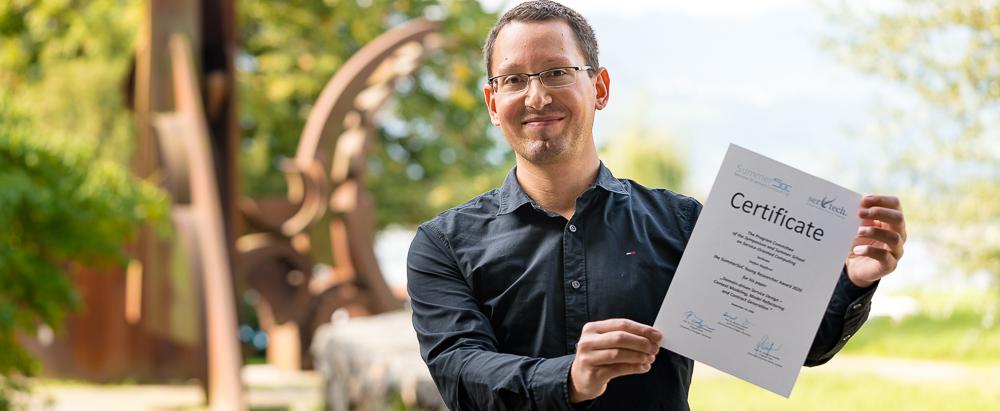 Certificates
Certificate in Advanced English (CEFR Level C1)
University of Cambridge
07/2016